Dolores
____ - ____
Family 1 : Albert Lee LEISY
[S249] Database updated on 2/5/2021 1:03:01 PM Pacific Standard Time
---
Estelle F. DORLAN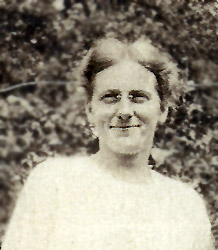 [288]
27 Jun 1884 - 20 Nov 1961
BIRTH: 27 Jun 1884, Pennsylvania
DEATH: 20 Nov 1961, Lancaster General Hospital, Lancaster, Pennsylvania
BURIAL: 22 Nov 1961, St. Mark Episcopal Cemetery, Chester County, Pennsylvania
Family 1 : Amos Martin LEISEY


She was a member of St. Mark's Epispocal Church, Church Hill; Honey Brook Township Grange, Order of Eastern Star, Reading; Chester County Woman's Republican Club. - Obituary

Found an Estella Dorlan, age 15 (born June 1884) on the 1900 West Brandywine, Chester, Pennsylvania census (dist 116 img 9) as a boarder in the household of Charles and Mary Coulter. Not sure if this is her.

Found her on the 1930 Honey Brook, Chester, Pennsylvania census (dist 42 img 11), age 45.

Found her on the 1940 Honeybrook, Chester, Pennsylvania census (dist 15-43 img 11) as Stella F. Leisey age 55.

Database updated on 2/5/2021 1:03:01 PM Pacific Standard Time
---
Clyde FREY
[1230]
18 Mar 1889 - 25 Dec 1981
BIRTH: 18 Mar 1889, Ohio
DEATH: 25 Dec 1981, San Diego, , California
BURIAL: El Camino Memorial Park, San Diego, San Diego, California
Father: William Frederick FREY
Mother: Sarah LEISY

Family 1 : Nellie Steele HENDRY

---

                                                 ______________________
                                                |                      
                           _____________________|
                          |                     |
                          |                     |______________________
                          |                                            
 _William Frederick FREY _|
| (1852 - 1939) m 1879    |
|                         |                      ______________________
|                         |                     |                      
|                         |_____________________|
|                                               |
|                                               |______________________
|                                                                      
|
|--Clyde FREY 
|  (1889 - 1981)
|                                                _Henry LEISY _________+
|                                               | (1796 - 1873) m 1819 
|                          _Jonathan LEISY _____|
|                         | (1820 - 1909) m 1846|
|                         |                     |_Catharine MILLER ____
|                         |                       (1800 - 1885) m 1819 
|_Sarah LEISY ____________|
  (1857 - ....) m 1879    |
                          |                      _John ROHRER _________+
                          |                     | (1789 - 1873)        
                          |_Mary ROHRER ________|
                            (1827 - 1901) m 1846|
                                                |_Magdalena KILHEFFER _+
                                                  (1793 - 1845)        

---
Found him on the 1900 Canton, Stark, Ohio census (dist 107 img 5) age 11.

Found him on the 1910 Detroit Ward 14, Wayne, Michigan census (dist 205 img 3) age 21, single a boarder in the home of John W. Day.

Found him on the 1930 Los Angeles, Los Angeles, California census (dist 232 img 3) age 41. No children.
Database updated on 2/5/2021 1:03:01 PM Pacific Standard Time
---
Kathryn A. SIMPSON

Birth data are suppressed for persons born less than 100 years ago


Father: Paul SIMPSON
Mother: Mabelle

Family 1 : Melvin Thomas LEISEY
MARRIAGE: 18 Jan 1943, Elkton, Cecil, Maryland
---

                          __
                         |  
                       __|
                      |  |
                      |  |__
                      |     
 _Paul SIMPSON _______|
| (1901 - ....)       |
|                     |   __
|                     |  |  
|                     |__|
|                        |
|                        |__
|                           
|
|--Kathryn A. SIMPSON 
|  (1925 - ....)
|                         __
|                        |  
|                      __|
|                     |  |
|                     |  |__
|                     |     
|_Mabelle ____________|
  (1908 - ....)       |
                      |   __
                      |  |  
                      |__|
                         |
                         |__
                            

---
Found her on the 1930 Salisbury, Lancaster, Pennsylvania census (dist 112 img 23) as Katherine Simpson age 4 years 7 months.

Chook was the oldest child born to Paul & Mabelle Simpson. She lived on a farm until she was 14 or 15 years old and worked on the farm with her dad, like she was a boy. She helped her dad hang tobacco, pick tomatoes, haul hay, and feed the cows.

When the farm chores were complete, she would go fox hunting with her dad. Chook's mom, Mabelle, wasn't too happy about her fox hunting because she jumped stone walls and barbed wire fences on her horse Tony. Once when she went to visit Meb, she rode Tony up onto the "Leisey back porch." E. Marie was none too pleased with this! Meb tried to ride with Chook, but as Chook says, "Meb just was not born to be a rider! He just bobbed up and down."

Chook's dad dropped her off at the Borough School in Honey Brook, which is where the Presbyterian Church parking lot is now, each morning when he took his milk to the creamery.

Chook met Melvin T. (Meb) Leisey in 7th grade when they both went to Honey Brook High School. (Honey Brook High School is where Honey Brook Elemtary School used to be. This is now where Honey Brook Gardens apartments are.)

They got married in 1943 and lived in Honey Brook, in John Dahlinger's 3rd floor apartment. Their 2 bedroom apartment cost $15.00 per month. They heated with kerosene and had to carry 5 gallons of kerosene from the gas station, across the street, and up to the 3rd floor each day.

In 1943, Meb left for the Navy, to defend our country in WW II. The land lady, Mrs. Dahlinger kept Tommy, Meb and Chook's first son, while Chook went to work at Stauffers Machine Shop, making 7 inch Navy shells. She lost half of 3 fingers on her right hand in one of the machines there, but that didn't stop her! Meb was in the Navy for 2½ years. He was a Gunners Mate on an LST57 which cruised the English Channel. Meb was fine in the calm weather, but got sick in rough waters. Chook says, "He took sea sick pills by the bucketful, but that didn't help. He brought everything up, but his socks!"

When Meb returned from the service, he worked at Lukens Steel Company for a short while, and then began to work at the ACME in Coatesville at 7th Avenue. Next, he was a salesman for Campbells and was on the road a lot. In 1948, their 2nd son, Jimmy was born and Chook had another little one to care for. Meb then partnered in business with Walter White in his grocery store in Honey Brook, where he was a butcher, worked the register, stocked shelves, and did any other job that needed to be done. In 1952, their 3rd son, Larry was born and now Chook has 3 busy boys to chase and raise.

In 1953, Meb and Chook went into business for themselves and opened "Leisey's Market," a self service grocery store on the Main Street in Glenmoore. Chook was a checker, delivered groceries, did the banking and much more. Meb butchered and made sure everything ran smoothly. Tommy stocked shelves before and after school.

One Christmas, a regular customer of Meb & Chook's came into the store. His wife had just died a few days before. Chook had cooked a delicious ham, all warm and pink and ready to eat. Meb had Chook give the ham to the man and she started to cook another ham, all over again! During these 5 years at Leisey's Market, Meb and Chook made many good friends. When they could sneak off for a day or two, they would go deer hunting in the mountains. On a snowy day, Meb told Chook to carry her gun with the barrel down,so no snow would get in it. When she did this, her barrel DRAGGED in the snow instead!

During these "Market days," Meb & Chook began building their house on the hill in Honey Brook called "Wat a Vu." They moved into their dream house in 1958. Meb now began to work the 3 to 11 shift at Pepperidge Farm in Downingtown. The boys were 5, 10, & 15 years old and Chook had her hands full, keeping tabs on everyone. Meb worked at Pepperidge Farms for 30 years. During these years, good times were had when Meb and Chook hosted the Pepperidge Farm folks for picnics and Chook cooked some of her great baked lima beans. Summers they went to Zacs to swim at the shore in Delaware or camping with their Sochesco Camping Club.

Throughout all of these years, Chook was raising the boys, supporting Meb, and cooking for everyone. They often entertained and great food was had by all! You might stop by at noon and Chook would just have finished cooking a kettle of homemade vegetable soup and maybe some rice pudding, or a war cake. Before Meb went to work, he'd eat a full meal at noon; sometimes roast beef, mashed potatoes and gravy, or oyster filling. The aroma was always heavenly. Drop in for a snack and you'll always find some Lebanon bologna, ring bologna, swiss cheese, and hard pretzels. It was always a pleasant time, to visit and chat with Meb and Chook.

In 2004, Meb & Chook made plans to move into a Fairmont Homes Apartment outside of Ephrata. Meb helped pick out the apartment and to set things up, but he never got to move in. Chook moved into her apartment on July 1, 2005. She has 9 grandchildren and 6 great grandchildren, and Mom Mom is enjoying her new home at Fairmount Homes and loves company!
Database updated on 2/5/2021 1:03:01 PM Pacific Standard Time
---